The Macintosh would finally receive the Snow White treatment at the end of 1986 with the simultaneous introduction of two new products, the SE and the Macintosh II. Both these machines reflected Gassée's desire to open the Macintosh architecture to internal expansion. The Plus had provided a SCSI port for external devices, but Gassée believed that an internal hard drive and the capacity for more expansion were expected in corporate settings (Carlton, 27). Some users had rebelled against the Mac's closed architecture, and products appeared as early as 1984 which required circuitry modifications that voided their warranties (Levy, "Shut and Open," 55). Unlike Jobs, who considered accessibility to the circuitry to be unnecessary and undesirable, Gassée supported his engineers' interest in making the Macintosh expandable and even had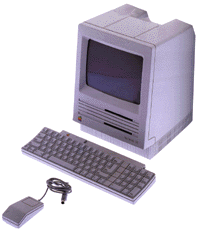 license plates on his car which read "openmac" (Carlton, 47).
The powerful appearance of the Macintosh II and the serious facade of the SE represent the conscious movement of Apple away from the friendly, even playful, appearance of its earlier machines. Before these products, the Mac had not been regarded as a viable business tool, but as a toy (Levy, 196). Its appearance, referred to countless times in various magazines as "cute," did not appear to detract from its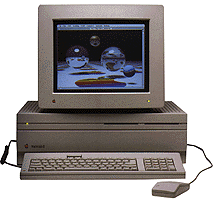 acceptance by the emerging desktop publishing industry and graphic designers. However, the industrial appearance of the PC seemed to have emerged as the only acceptable design for corporate environments; it had, after all, emerged from IBM, then one of the most respected of American corporations. In 1984, the technology columnist John Dvorak could already express the crystallizing expectation of users for this physical standard: unlike the friendly Macintosh which made technology universally accessible, the IBM PC is "a man's computer designed by men for men" (Gelernter, 40). To position its products towards this lucrative corporate market, Apple had to adjust towards this expectation for a particular form. The physical expression of their friendly and accessible graphical interface became diluted when reshaped into the standard.
---
To the Macintosh SE

---
Home || Introduction || Historiography || 1-Cottage industry || 2-Emerging standards || 3-Macintosh
4-frogdesign || 5-Corporate focus || Conclusion || Bibliography & links